ABOUT US
You've probably heard the expression "being behind the 8-Ball." Sure it came from a game, but in life it means being stuck in a position where any move will have a negative effect, in other words trapped with no way forward. At the 8-Ball Welfare Foundation we have been able to provide the way forward for many fellow journalists.
The 8-Ball Welfare Foundation exists to allow those of us in the profession of journalism to help fellow journalists in time of need. As you can see in the history section of this website we reach back nearly 60 years.
The 8 Ball Foundation is a charitable foundation started by the Greater Los Angeles Press Club in 1954. The organization became independent of the Press Club in 1956 and remains so today. Many hundreds of thousands of dollars have been given in financial aid. These are grants that have gone to needy Southern California journalists (radio, television, print and web) and journalism students.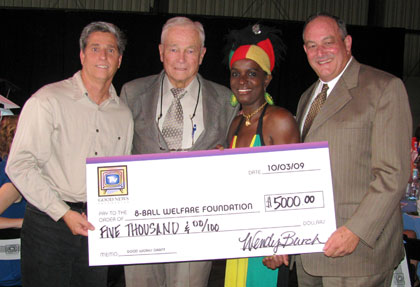 In 2009, the Good News Foundation of Los Angeles honored the 8-Ball Welfare Foundation a $5,000 "Good Works" grant. Accepting it are (from left), Ken Moore, Chairman Bob Krauch, Venice McClean and Treasurer Bob Tarlau.
PERSONAL GRANTS
8-Ball Foundation grants are given solely on the basis of current need. They go to working journalists who are temporarily "down and out." The funds they receive are used to pay rent, obtain urgent medical care or purchase food and other basic necessities. With the recent spate of layoffs in print and broadcast, the need is especially acute and our requests for donations are ever more urgent.
Those who've received Personal Grants remain confidential with the exception of recipients Venice McClean and Ken Moore, in the photo above. You will find them profiled by following this link to the Personal Grants page.
JOURNALISM SCHOOL GRANTS
In the mid-1970s, the 8-Ball Welfare Foundation approved a second, related mission. That is the awarding of limited and smaller grants to journalism schools to help needy students. This is only done when the Chairman of the Board of Directors determines sufficient funding remains in a given year beyond the prime mission of fulfilling Grants to working journalists. Follow this link to the Journalism School Grants section of the site for photos of some of our recent recipients.
DONATIONS AND MEMBERSHIPS
You become a member of the 8-Ball Welfare Foundation through your annual donations. Every dollar you contribute goes directly to help members or future members of our profession through our grants. We are a non-profit 501(c)3 private foundation as described under section 509(a) of the IRS code.
Please follow this link to our Donations page to make a contribution either via PayPal or through the mail. Please help us help others with a tax deductible donation. We sincerely thank you!